This article will help you pick the best possible Peerblock alternative (which will hide your torrents better than Peerblock ever did)
Peerblock is a popular IP blocking program, which (until recently) was used frequently by bittorrent users. You can download custom 'block lists', and in doing so hopefully block IP addresses belonging to torrent monitoring companies. Of course this doesn't work very well (using the most popular block lists will ban over 25% of IPv4 IP's in existence). This is much like carpet bombing an entire country, hoping to hit one single target by blind luck.
We already wrote an an entire article demonstrating why Peerblock doesn't actually work to hide your torrent activity. But here are the key points…
Why Peerblock/IP blocking software doesn't work:
Impossible to block all the dangerous IP's

99.99% of the blocked IP's are harmless (which dramatically drops # of available peers)
Less peers = slower speeds
Peerblock doesn't encrypt your traffic, so your ISP still knows you're torrenting

Peerblock doesn't change or hide your IP address (which is clearly visible to all torrent peers)
THE 'BETTER' PEERBLOCK ALTERNATIVE
So if Peerblock doesn't work, then what does?
In the end, there are really only 2 solutions for truly anonymous torrents:
​
Either option will work for you. As for which one works best?
a proxy will be faster but isn't encrypted (you can use your torrent client's encryption but reduces # of peers)
a VPN might be slightly slower (and more expensive) but uses extremely strong encryption.
Our article VPN vs. Proxies for anonymous torrents will give you the full breakdown and help you choose.
Of course if you want the best of both worlds…
Choose a VPN provider that includes free SOCKS proxy service with your subscription. That' way you get the option of either a using a VPN or proxy without paying separately for both. Even better, you can use both simultaneously for even stronger protection.
Private Internet Access is our #1 recommended VPN/Proxy service for torrents. Not only are they one of the cheapest VPN's available, they also throw in Netherlands-based SOCKS proxy service for free (great for torrents).
THE IMPORTANCE OF CHOOSING A 'NON-LOGGING' PROVIDER
Any VPN will probably work better than Peerblock when it comes to actually hiding your torrent activity (assuming they actually allow torrents on their network).
But a non-logging VPN is vastly superior, because it's the closest you can get to 100% anonymity. A non-logging VPN provider keeps no logs or records of your IP address history (most VPN's do keep logs). Without logs, there is no link between your torrent ip address (assigned by your VPN/proxy) and your true IP address (from your internet provider).
That's why the most of the VPN's featured on this site are torrent-friendly and 'non-logging'.
What you look like without a VPN
when you're join a torrent swarm (every time you seed/download a file) your IP address is visible to every single peer sharing that file. But if you use an anonymous VPN or proxy you can replace your true IP address with an untraceable IP provided by your VPN service.
Ok, so now you know that:
Peerblock doesn't really make you anonymous (read this to learn why)
A non-logging VPN is optimal for safe, private torrents
Next up, I'll show you 3 of my favorite non-logging VPN/Proxy services for bittorrent. After that, I've got links to our guides on how to use any VPN/Proxy with your favorite torrent client, and the best settings for optimal security.
​Let's do it.
TOP 3 RECOMMENDED PEERBLOCK ALTERNATIVE VPN SERVICES
These are our 3 favorite providers offering torrent anonymity services. 2 of the 3 offer proxy service as well, and all 3 offer VPN service. If you're not sure whether you want a VPN or Proxy, we compared the two options.
Each provider listed below has it's own advantages, but don't sweat the choice too much. The truth is, all 3 will work great so in the end it comes down to personal preference (and usually price as well).
#1. Private Internet Access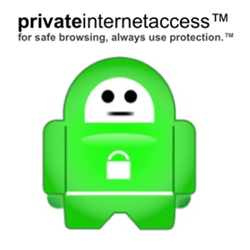 No logs
Unlimited Bandwidth
SOCKS proxy included
$9.95/month (monthly)
$3.49/month (bi-yearly)
Private Internet Access was named our 'Best VPN for Torrenting' 3 years in a row, and along with NordVPN is one of the 2 most popular VPNs with our visitors.
There are a ton of features I love about PIA. You can read our full review if you want to hear them all) but here are the real top selling points…
Why PIA is our most popular choice:
No Logs. Period.
Very torrent-friendly (torrents allowed on all servers)
SOCKS5 Proxy service included free with every VPN purchase.
256-bit AES Encryption (plus custom control of encryption strength/algorithm)
7-day 100% refund guarantee
In general, I recommend people try PIA first (because it's so affordable) and our readers love it. Try PIA risk-free for 7 days.
---
#2. IPVanish (fastest Peerblock alternative)
IPVanish claims to be the fastest Tier-1 VPN provider in the world and may well be right. Check out our IPVanish review for full details and speed test results.
We were able to get speeds over 100mbps on our 100mbps connection (most VPN's will only get you 50-80% of your normal speed, but that percentage drops for connections over 50mbps.
Like PIA, IPVanish is a non-logging VPN and they do allow torrents on their network. 
​IPVanish's top features:
No Logs
Fastest VPN we've tested
256-bit encryption
Anonymous payments (bitcoin)
excellent software
7 day refund policy
Compare IPVanish: See how IPVanish compares to other top VPNs
---
#3. NordVPN (amazing value)
NordVPN is an insanely popular VPN with the torrent community, thanks to their zero-log policy, p2p-optimized servers, and included SOCKS5 proxy service. They also got one of the best special offers around, priced at $2.99/month if you opt for a 3-year commitment.
NordVPN also works seamlessly with Netflix, Hulu, BBC iPlayer and other streaming services (whereas most other VPNs are blocked).
And with their dual-option kill-switch and p2p-optimized servers (for faster seeding) you'll wonder why you waited so long to pull the trigger.
The one downside is their speeds are slower than competitors like IPVanish (but you can still pull 40 mbps on most servers).
Read: Our full NordVPN review for speedtests, setup guides and more…
HOW TO USE A VPN OR PROXY FOR TORRENTS
You can use a vpn and/or SOCKS proxy with all major torrent clients. The VPN is the simplest option. You simply choose a server location from your vpn software, and click the connect button. That's it. The VPN takes care of the rest.
The proxy setup is a bit more hands on, but can easily be accomplished in a few minutes thanks to our handy setup guides. These guides will show you the optimal VPN settings for torrents, as well as step by step instructions to use any SOCKS proxy with your favorite torrent client.
Our VPN/Proxy Setup Guides: