NordVPN and IPVanish are two of the heavyweights of the VPN industry. Recently, NordVPN has passed IPVanish in popularity & growth, but does that mean they're actually the better provider?
Each of these VPN's has distinct advantages and unique features. This article will compare them in-depth and help you quickly decide which is the better choice for you. 
You can use the table of contents to skip to the topics/features you care about most:
The base pricing of both these services is pretty similar. IPVanish starts at $10/month whereas NordVPN is priced slightly higher at $11.95/month.
The one year plans comparable as well, priced at $6.49/month (IPVanish) and $6.99/m (Nord). 
But the biggest discount goes to NordVPN subscribers who are willing to pay in advance for a 3-year subscription, priced at $107.55 (which works out to $2.99/month). 
Beware:  NordVPN's 3-year deal is a limited time offer, and may go away soon!
| | NordVPN | IPVanish |
| --- | --- | --- |
| VPN apps for | Windows, Mac, iOS, Android, Linux | Windows, Mac, iOS, Android, FireTV/FireStick |
| Manually configuration for: | Routers, FireTV, | Routers, Linux |
| Split Tunneling | No | Android only |
| Stealth/Obfuscation | Yes (obfsproxy) | Yes (OpenVPN obfuscation) |
| Simultaneous Connections | 6 | 10 |
| Other Features | Ad/Malware-blocking, Netflix Unblocking, Dedicated-IP servers, VPN-over-Tor, p2p-optimized servers, SOCKS Proxy | SOCKS Proxy |
While the core VPN features of these two are nearly identical (encrypted connection to various server locations around the world), that's not the whole story.
Each has add-on functionality beyond a simple VPN tunnel. And NordVPN really starts to set themselves apart with the available extras. 
Platforms/Operating Systems
Most of you will be using the VPN on a major OS, like Windows/Mac or a smartphone. Fortunately, both these providers have full native app support for all 4 major OS's. 
And if you want to run a VPN directly on your (vpn-compatible) router, you can manually configure either of them to work. In our testing, IPVanish's manually connections were a bit more stable.
One further advantage for IPVanish, is they're the only one with a native app for Amazon's FireTV/Firestick platform. 
This allows you to create a VPN connection directly on your FireTV device, and works perfectly for Kodi or other streaming applications. 
Simultaneous Connections/Devices
Most VPN's limit the number of devices you can connect to their network simultaneously.
IPVanish allows 10, whereas NordVPN allows 6 devices at once.
Both of these are well above the industry average, which is closer to 3, so it shouldn't be a factor unless you're sharing one VPN account with your entire family. 
Lets look at some of the other functionality these providers have built into their software:
NordVPN:
Ad-Blocking/Anti-Malware: This feature is a nice idea, though in practice it doesn't block ads nearly as effectively as something like adblock. 
Netflix/Geo-restriction Unblocking: NordVPN is one of the few VPNs that works with Netflix. It can also work to unblock other geo-restricted streaming services like BBC iPlayer, Hulu, Amazon Prime, and Spotify. 
Special-Use Servers: You can choose from special server types with single-use cases. These include routing your VPN connection through a Tor exit node, or p2p downloads and torrenting. 
IPVanish:
IPVanish doesn't offer much in extra functionality besides their limited obfuscation/scramble feature which may help their VPN get through restrictive firewalls. NordVPN's obfsproxy technology works better though. 
NordVPN and IPVanish both have stable, frequently updated apps for all major OS platforms.
I personally prefer the look and feel of IPVanish's software (though the functionality is similar). 
IPVanish also allows you to pick individual cities within a country, whereas NordVPN doesn't (one of the few VPNs with this limitation). 
IPVanish's Software has one of the best UI's of any major service we've tested. All settings are easy to find and accessible with a few clicks.
One thing I've grown to appreciate is the 'Favorite Servers' list (just click the star) which lets you save most-used servers for easy access.
The Windows software gives access to all 4 VPN protocols, including: OpenVPN, IKEv2, SSTP and PPTP. The Mac app gives you all that except SSTP (which is windows only). 
You also get granular control of the server selection process. You can choose individual cities within a country (and even specific servers within that city). NordVPN won't let you do this. 
IPVanish Software Settings
The settings menu lets you quickly configure the app to match your security needs. Choices include:
Choice of VPN protocol and Port
Activate the kill-switch
Turn on 'Scramble'/Stealth mode (OpenVPN only)
Auto-reconnect
Auto-connect on startup
NordVPN's software layout is similar to IPVanish's, featuring a server selection view (map or list) as well as a settings menu.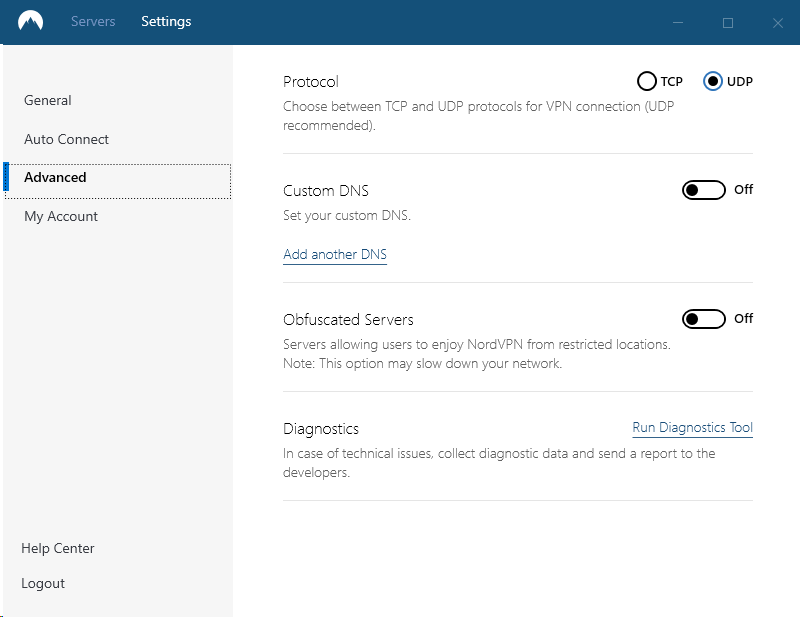 Selecting a server in NordVPN is as easy as choosing a location from the map view, or using the list view on the lefthand side.
You can also choose from the special-use VPN server types which include:
Dedicated IP: NordVPN allows users to have a unique IP address where they're the only subscriber allowed to use it. This is an add-on service priced at $70/year
p2p/torrents: Special servers optimized for p2p file-sharing and BitTorrent downloads. Maximum privacy and faster download speeds.
Double VPN: These 'double-hop' servers will route you through 2 VPN exit nodes. This is mostly a marketing gimmick that results in lower speeds with minimal privacy benefits.
Currently, NordVPN does NOT offer a 'favorite servers' feature like IPVanish.
NordVPN's software has an intuitive settings menu that lets you turn certain features on/off, such as:
Kill Switch: NordVPN offers both an internet and app-level killswitch. You can activate either (or both).
Hide on LAN: Hide your computer from other devices on the same network
CyberSec: Built-in anti-malware and ad-blocking technology. 
Custom DNS: Specify your own DNS servers (like 8.8.8.8) if you prefer that to NordVPN's
Obfuscation: Disguises your VPN traffic to get through restrictive firewalls. May slow speeds. 
Many people like to use a VPN to access geo-restricted content from anywhere in the world. Popular uses include Spotify, Hulu, Netflix & BBC iPlayer.
Currently, NordVPN works with ALL of the above services, whereas IPVanish only works with spotify and is blocked by the other 3 (generating a proxy error message). 
Both of these services are excellent choices for frequent BitTorrent users. Each has the essential ingredients to be a torrent-friendly VPN, including:
Zero-Log Privacy Policy
Torrents allowed on all servers
SOCKS5 Proxy Included
P2P Usage explicitly allowed
In fact, both NordVPN and IPVanish score a 10 out of 10 on or torrent-friendliness rankings. 
Winner: Tie
A VPNs privacy policy should be  a critical part of your selection process. Users, and especially frequent torrenters, should always choose a VPN with a true no-logs policy.
So what logs do NordVPN & IPVanish keep?
…we have a strict no-logs policy when it comes to seeing user activity online: being based in Panama, which is internet friendly country and does not require data storage or reporting, we are empowered to deny any third party requests. Period.
So NordVPN also appears to be a true Zero-Log VPN. We like that their privacy policy is even more specific, and promising that they are 'empowered to deny and 3rd-party requests' thanks to Panama's privacy laws. 
Offshore VPNs (in coutries like Panama, Sweden, Switzerland etc…) are considred to offer greater privacy and perhaps additional protection from extra-national surveilance agencies like the NSA and Five-eyes spy alliance. 
"IPVanish does not collect or log any traffic or use of its Virtual Private Network service"
While the terms 'traffic or use' are a bit vague, we did get in touch with an IPVanish employee who indicated that IPV doesn't store IP addresses or similar invasive connection logs. In other words, IPVanish appears to be a true zero-log provider.
It's worth noting the IPVanish is located the USA. Data retention laws in the USA do not apply to VPN services, so IPVanish can choose not to keep any logs whatsoever. However, all US-based companies could be compelled to secretly comply with a National Security Letter and divulge subscriber information (if any is kept). This isn't really a concern for anybody that isn't being actively pursued by a government agency. 
Possible Concerns:
IPVanish was at the center of a controversy about their logging policy, when it was revealed that the US Department of Homeland Security was able to identify one of their users in Indiana. 
However it is not clear whether IPVanish actually violated their logging policy (as their competitors claim) or if the DHS was responsible for the data collection, using Wireshark on a similar packet-inspection technology.
In either case, it shows the limitations of a privacy policy when faced with government intervention. 
Who offers better privacy?
While both these services advertise a 'no-logs' guarantee, NordVPN is better set up to guarantee it.
Their Panama-based jurisdiction gives them some protection from subpoenas regarding user data, and we haven't heard any reports or cases of specific user data being exposed (unlike IPVanish).
Winner: NordVPN
The core function of a VPN is to secure & encrypt your data in transit. Lets see how IPVanish & NordVPN stack up in this area:
Encryption Strength & Algorithm
Both NordVPN & IPVanish uses 256-bit AES Encryption by default. This is the industry standard for high-security encryption algorithms.
For the initial key exchange between your device and the VPN server, NordVPN uses 4096-bit keys (stronger) and IPVanish uses 2048-bit (weaker). Both are considering secure in practical terms, and IPVanish's smaller key-size gives them a speed advantage (quicker connection times). 
When it comes to data authentication (making sure an attacker can't inject malicious data into your VPN packets) both use SHA-256 (which is highly secure). 
Both services have an internet-level kill-switch (which will shut down your internet connectivity if the VPN disconnects). 
Additionally, NordVPN offers an app-level kill switch which will close programs you specify when the VPN drops. Though it sounds nifty, in practical terms it may be less useful, and is noticeably slower to react that the near-instant internet kill switch. 
NordVPN has a new 'CyberSec' feature that is meant to block ads and protect users from malware. It's a behind-the-scenes feature, so it's a bit hard to tell whether it's working (no notification when malware is blocked).
In general, it's nice to have but probably not as useful as a purpose-built tool like Malwarebytes or a good Antivirus.
Winner: NordVPN
We give NordVPN the slight edge here, thanks to their stronger handshake encryption, Cybersec anti-malware, and dual kill-switch options. 
How do NordVPN & IPVanish match up for overall speed, both on nearby servers as well as international server locations. 
We ran our tests on a 100mbps connection to see how they matched up:
| | NordVPN DL | NordVPN UL | IPVanish DL | IPVanish UL |
| --- | --- | --- | --- | --- |
| USA | 67.78 Mbps | 107.52 Mbps | 58.40 Mbps | 44.67 Mbps |
| Canada | 51.70 Mbps | 71.05 Mbps | 89.29 Mbps | 39.08 Mbps |
| Netherlands (p2p) | 51.42 Mbps | 20.44 Mbps | 51.43 Mbps | 12.61 Mbps |
NordVPN Speed
IPVanish Speed
Conclusion: NordVPN or IPVanish (who's the best?)
You should choose NordVPN if…
You want the best value
Your connection speed is slower than 50mbps
Country-level server selection is enough
You want audited proof of no logs
You should choose IPVanish if…
Speed is the most important thing
You're willing to pay for better performance & stability
You want to use your VPN for FireStick/Kodi
You trust U.S. based companies more ones with shadowy ownership