Starting January 2nd, 2015, all Canadian Internet and VPN providers are now required to keep logs on their users' activities for a minimum of 6 months.
This will have a huge impact on Canadian bittorrent users who were previously allowed to download torrents largely without issue.
Fortunately, there are still many VPN providers located outside Canada that can protect Canadian internet users' torrent activity from being blocked, monitored, or logged by your ISP.
Topics We'll Cover:
The legal status of Torrents in Canada
Copyright Modernization Act & its Data retention requirements
Why you should consider using a VPN
The Best VPNs for Torrenting in Canada
Are Torrents Legal in Canada?
Before we dive in, a disclaimer is in order: I am not a lawyer (nor a Canadian) and this is not legal advice. It's a summary of my understanding of Canadian copyright law, nothing more. Moreover, this is a privacy guide, not a license to pirate. We don't condone the sharing of copyrighted material. Consider yourself disclaimed.
BitTorrent Technology itself is not illegal in Canada
BitTorrent is not piracy, nor is it illegal. BitTorrent is simply a technology designed to distribute files more efficiently by allowing multiple (sometimes thousands) of 'peers' to share small pieces of a larger file with 'leechers' (people who are downloading the file.
It's way more efficient than downloading a file directly from a server, and even large companies like Facebook are using torrent technology to distribute huge files across their server network.
Sharing Copyrighted Files IS illegal in Canada
Torrents become a problem if you're downloading a copyrighted file (like a movie or song) to which you don't own the rights. In Canada, there may be a distinction between streaming and downloading (so streaming movies via Kodi may be legal).
There's also a may be a distinction between distributing (uploading) and downloading. However because of the way BitTorrent works, all downloaders are also seeders (uploaders) of the file parts they've already downloaded.
Copyrighted files are the main torrent files that are monitored and policed in Canada. Downloading this files can cause conflict with your ISP or even a lawsuit from a rightholder or copyright troll (the worst).
In order to avoid these problems, smart BitTorrent fans will either:
Stick to Legal torrent files
Use a zero-log VPN, which can make any torrent activity nearly impossible to trace back to you.
Copyright Modernization Act (and 6-month data retention)
The copyright modernization act (which went into effect January 2, 2015) is a new law that greatly reduces the freedom and rights of Canadians regarding the downloading and sharing music, movies, and other files.
It also has a dramatic impact on personal privacy as all Internet Providers and VPN services based in Canada will now be required to be able to identify individual users and forward notices of alleged CMA violations. In order to comply with this requirement, all Canadian VPN's and Internet Providers must now keep logs of subscriber connection activity for a minimum of 6 months.
This is a devastating blow to internet privacy in Canada. It could also force some VPN companies out of business. BTGuard, a popular 'non-logging' VPN and proxy provider popular with bittorrent users. BTGuard's mailing address is in Toronto, so presumably they will be affected by the new legislation and forced to either start keeping logs (even though their privacy policy says they don't), pay $10,000 per violation, or shut down.
It also creates a less desirable climate for BitTorrent users who's IP addresses and possibly online activity will now be recorded by their ISP. Furthermore, internet subscribers may now be subject to extortion letters (like this one) demanding settlements from (often innocent) internet subscribers identified only by their IP address.
This problem has been worsened by the 'Notice and Notice' provision, which requires ISP's to notify users of an alleged infringing activity, but can also be used by copyright trolls to forward 'Extortion Letters.'
As a result, Canadians have been subscribing en masse to popular VPN services in order to protect their online privacy.
Use of a non-Canadian VPN can prevent monitoring of your internet activity by your ISP by encrypting all of the data you send and receive.
WHY CANADIANS SHOULD USE A VPN
A Virtual Private Network performs 2 functions that dramatically increase your privacy while torrenting:
Unbreakable Encryption: All data transferred between your computer and VPN server is encrypted and unreadable by your ISP
Hide your IP address: The IP address that public sees (websites, torrent peers, etc) is your VPN's IP address, not your own.
Since users targeted under the new CMA legislation are almost always identified by only an IP address, and you subscribe to a non-logging VPN, it is virtually impossible to track online activity from a VPN assigned IP address back to the original user.
In addition to providing an anonymous IP address to users, usage of a VPN also has the benefit of encrypting all data transferred between the user and the VPN server. The encryption strength of even affordable VPN's is extremely strong, usually 256-Bit encryption (the same encryption strength used by the U.S. military for secret communication).
The upside of this encryption is that intermediaries (like your Internet Provider) who have access to all of your data (since it must flow through their network) cannot decrypt or read any of the data sent through the VPN. This means they cannot see which websites you visit, searches you make, or files you download.
THE BEST VPNs FOR TORRENTING IN CANADA
If you plan to download torrents in Canada, we highly recommend you use one of these affordable VPN providers to protect your privacy while doing so.
Plans start as low as $2.99/month which is almost as cheap as Tim Horton's coffee.
We Recommend:
NordVPN: Panama based, zero-logs. Works with US-Netflix too! (read review)
Private Internet Access: Zero-logs, included SOCKS5 proxy. (review)
IPVanish: US-based, zero-logs. Includes SOCKS5 Proxy. (read review)
#1 – NordVPN: Best Overall VPN for downloading torrents in Canada (from $2.99/m)
There's a lot to love about NordVPN, but let's start with their pricing. A 3-year subscription starts under $3/month (US) and 1-year plan is under $5/month.
But they don't cut corners with their service. In fact, NordVPN is one of the most feature-rich VPNs on the market (and among the 3 most popular in the world).
Read: Our 2019 NordVPN Review (and optimal torrent setup guide)
Top features include:
A true zero-log privacy policy
256-bit encryption on all devices
5 connected devices allowed simultaneously
SOCKS5 proxy service in 10+ locations (works with uTorrent/Vuze/Deluge)
Unblocks US-Netflix and Hulu from anywhere in the world
Torrents allowed on all servers
10+ servers in Canada (and over 50 other countries)
30-day 100% refund policy
---
#2 – Private Internet Access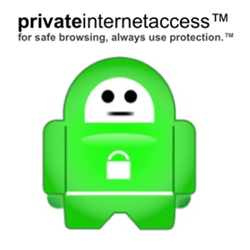 Private Internet Access is extremely popular with bittorrent users around the world. With 1 year subscriptions priced at only $3.49/month, we think PIA is the absolute best value when it comes to anonymous VPN services.
Like IPVanish, Private Internet Access has a zero logs policy.
The only information they require to sign up is an email address and a payment method (Anonymous Bitcoin or gift card payments accepted)
PIA has the best software we've seen in a VPN provider under $5/month. Their software is extremely intuitive and also includes extra security features like:
VPN Kill Switch (ensures your IP address isn't revealed if the VPN disconnects)
DNS Leak Protection (makes sure all website lookups are routed through anonymous DNS servers)
Adjustable Encryption Strength (up to 256-bit Miltary-grade encryption)
Socks Proxy: Use this for a 2nd IP-address switch inside uTorrent / Vuze
PIA is known to be very protective of the privacy of torrent downloaders, and we haven't heard or read a single report of any bittorrent users' identities being revealed while connected to their network.
All subscribers also get free proxy service with their VPN package. You can easily configure your favorite torrent client to route all traffic through the anonymous proxy server.
You can run the proxy server separately from the VPN or even use the proxy connection inside of your secure VPN tunnel for a 2nd layer of privacy! PIA allows an amazing 10 simultaneous VPN connections from one account.
Learn more by reading our Review of Private Internet Access
More Tips for Safe Torrenting in Canada
It really isn't hard to keep your torrent downloads private, especially if you choose a zero-log VPN as your preferred tool.
Just follow these simple rules:
Encrypt your Torrent Traffic so your ISP can't read it
Make sure you change your Torrent IP address w/ a VPN (or proxy)
Use Private Browsing or the Tor Browser to visit torrent sites
Consider joining a Private Torrent Tracker
And of course we always recommend sticking to Legal/Verified torrent sources.
If you've still got questions, let us know in the comments below!