We compare Torguard, IPVanish, NordVPN & BTGuard SOCKS proxies head-to-head
VPN's may still be the #1 torrent privacy tool (in popularity) but zero-log proxy services are the clear #2. Thanks to their low cost and one-time setup, SOCKS5 proxies are a more affordable privacy method than something like a Seedbox or Debrid service.
And to meet that demand, many of the top VPN services now offer logless SOCKS proxies either as a standalone service (Torguard, BTGuard), or even included free with any VPN subscription (PIA, NordVPN, IPVanish).
In this article you'll learn:
The pros/cons of a proxy vs a VPN
What type of proxy to use for torrenting (always SOCKS)
Which zero-log proxies are the best performance/value
Proxy vs. VPN
A proxy and VPN both route traffic through a remote server (changing your IP address). But there are a few key differences:
A proxy typically doesn't have it's own encryption (VPN does)
The proxy will usually be configured to route the network traffic of one specific program (your torrent client and/or web browser)
You only need to configure the proxy once, inside your torrent client. There isn't any standalone proxy software to run.
For a more in-depth look, READ: VPN vs. Proxy for torrenting.
Not all torrent clients fully support the proxying of peer data transfers. The best clients to use with a proxy are:
uTorrent/BitTorrent
Vuze
Deluge
QBittorrent
Flud (Android)
tTorrent (Android)
Always use a SOCKS proxy. Never HTTP.
I've seen countless stories on Reddit and forums from people who thought they had anonymized their torrents by using a 'free' HTTP proxy they found on some website. You should NEVER use an HTTP or HTTPS web proxy for torrenting.
Why? Simple. The BitTorrent protocol doesn't support HTTP for peer communications. Your torrent client will simply ignore the proxy for peer connections (allowing peers to see your real IP address).
The only proxy type that works is SOCKS. The modern version of the SOCKS proxy is SOCKSv5.
This is what you should use.
Learn More: SOCKS vs. HTTP proxies
Recommended SOCKS torrent proxy services:
These are my favorite torrent proxy services (ranked in order). I have personal experience using all of them, and they have been individually speed tested (your own performance may differ).
Ranking factors:
Speed
Security
Server locations
Works with magnet links?
Included w/ VPN or sold separately
Price
1. Private Internet Access (from $3.33/month)
Private Internet Access was the first major VPN to embrace file-sharing. They were also the first to bundle a logless SOCKS proxy with every VPN package. And they're still our favorite torrent proxy.
Why we ranked Private Internet Access #1 overall:
Speeds are excellent
Solid security. You generate unique proxy credentials in your account panel (different from your VPN username/password).
Works flawlessly with magnet links (some proxies have problems loading torrents from magnet links).
Included w/ VPN: Every PIA plan includes both VPN + Proxy service for one low price.
And most importantly, Private Internet Access has a proven privacy track record. They're the only VPN provider (as far as I know) who has successfully defended their zero-log claims in court against the FBI.
Read: Our 2020 Private Internet Access Review
---
2. NordVPN (from $3.99/month)
NordVPN is one of our top-ranked VPNs for torrenting. They also have the most included SOCKS proxy locations of any major VPN service. There are more than 40 NordVPN proxy server locations, and 11 p2p-optimized SOCKS5 servers.
NordVPN bundles proxy service with every VPN plan. Deals start around $3.99/month.
Our only real concern about using NordVPN's proxy is that they reuse your VPN credentials for all their proxy servers. Most torrent clients transmit proxy credentials in cleartext (unencrypted) so if you're using the proxy on a public network, an attacker could potentially steal your VPN credentials. I have no idea why they don't use a unique proxy login like all other services.
Pros:
Many server locations
Good speeds
Great price
Works perfectly with magnet links
Good support (NordVPN has setup guides for most torrent clients).
---
3. Torguard (from $4.99/month)
Torguard is a great choice for torrent privacy because they fly below the radar. They've been around for nearly 10 years, but they don't have the name recognition of Private Internet Access, NordVPN, or ExpressVPN. And they like that just fine.
Speeds at Torguard are excellent on both their Netherlands-based SOCKS proxy server and most VPN locations. They don't overcrowd servers like some of their competitors.
Another unique advantage is Torguard built their own proxy setup tool which automatically installs the optimal proxy settings in your favorite torrent client (uTorrent, Vuze, Deluge supported).
The only negative I can find is that the proxy isn't bundled with their base VPN package. You can buy a bundle, but it'll cost closer to $10 a month if you want proxy and VPN service together. This is more than double the cost of some other services.
Torguard Pros:
Automatic proxy installer
Great speeds
Separate proxy credentials (good security)
Under the radar
---
4. IPVanish (from $6.49/month)
IPVanish is a stellar VPN service and one of our go-to VPNs for torrenting. Since 2015 they also bundle SOCKS5 proxy service with every subscription.
Speeds are solid on this Netherlands SOCKS5 cluster, and it works great with uTorrent, Vuze and QBittorrent in my testing.
The only caveat is that I've occasionally had issues with magnet links loading. Sometimes I've had to refresh the torrent a few times or even download the actual .torrent file to get the torrent to start.
Support has been responsive and has actually changed their server configuration to address this issues but I still experience problems from time to time.
Pros:
Fast SOCKS5 speeds
Good security (generate unique proxy credentials in your account panel)
Included Free w/ VPN subscription
Torrents are an allowed usage of proxy servers
Cons:
Occasional issues loading magnet links
---
5. BTGuard ($6.95/month)
BTGuard is one of the oldest torrent proxy (and VPN) services in the world. They have been a zero-log provider from the beginning and make it a point to stay off the radar.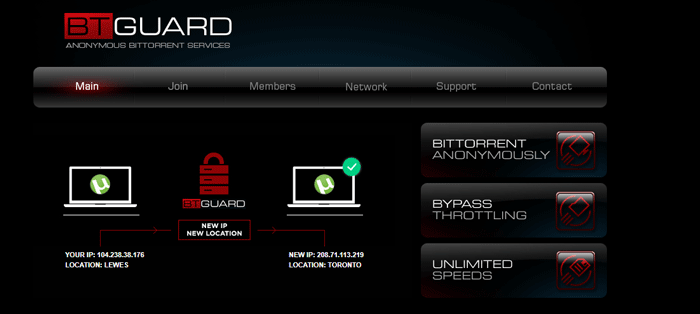 BTGuard sells proxy and VPN service separately (the proxy is $6.95/m for month-to-month plans).
One unique feature is that BTGuard has built their own encryption layer for the SOCKS proxy, which makes it more secure than the other services on this list.
And BTGuard is purpose-built for torrenting. A huge percentage of their subscribers do so for file-sharing privacy.
As far as downsides go, BTGuard is priced higher than competitors. You also need to be technically skilled enough to set everything up properly (we have guides). This is because BTGuard support is notoriously hard to reach and users often report just getting autoresponder messages or responses that have just been copied and pasted from their user-guides.
Pros:
Good speeds
Built specifically for torrents
Encryption layer for proxy (more secure)
Cons:
non-existent support
expensive for standalone proxy service
How to properly setup the proxy
You'll need to do a one-time proxy setup inside your supported torrent software. You'll configure the proxy settings and then it should connect automatically every time to open the torrent client.
The details (username/password/proxy address/port #) are different depending on which service you choose, but the setup process is identical.
We have proxy setup guides for:
Summary & Recommendations
There several reputable zero-log proxy services available for file-sharing. There are a couple things to be aware of when choosing:
You should ONLY use a SOCKS proxy for torrenting. Never HTTP(s)
Several VPN services include a SOCKS proxy (PIA, IPVanish, NordVPN)
You need to configure your torrent client to use the proxy (one-time)
Our favorite torrent-friendly proxy service is Private Internet Access, but any of the services on this list should serve you well.
Here are a couple reasons you might choose a different provider:
If you want the most server locations, choose NordVPN
If you want easy setup and the fastest speeds, get Torguard
If you want an encrypted SOCKS proxy, you need BTGuard.
More about encryption: There are 2 other ways to encrypt your torrent transfers. Checkout our complete torrent encryption guide.