BTGuard was one of the original zero-log VPN providers that marketed their services specifically to the needs of Bittorrent users. And we love them for that.
But the VPN industry has evolved and BTGuard's services remain largely unchanged. We decided to investigate what BTGuard alternatives are in the marketplace. In this guide, we'll answer the question: which VPNs solidly outperform BTGuard's dated software and service?
What is BTGuard?

BTGuard is a VPN & Proxy service
The appeal of BTGuard is their simplicity. Some people want tons of features, and some people want a simple option that just plain works. BTGuard is simple, but it works.
They offer two main products, a VPN service and an anonymous proxy (used almost exclusively for p2p and torrent traffic). According to BTGuard's webiste, both services are 'Zero-Log.'
BTGuard's proxy service is especially popular because of BTGuard's easy install option, which is a customized version of the popular utorrent client with all the proper proxy settings already installed.
Bittorrent users like BTGuard Because:

They don't keep any logs.
They welcome p2p/torrent traffic on their network
The software is easy to install (customized uTorrent Client software)
But BTGuard has had its fair share of complaints as well…
DISADVANTAGES OF BTGUARD

Users like the fact that BTGuard is simple to set up, and they can be left in peace to use the network anonymously. The problem with this, is it can be very difficult to get any assistance if you actually need some.

BTGuard has basic set up guides on their website for popular BitTorrent clients and basic VPN operation, but not much else. There's no live chat support or phone support, only email, and even then it can be really hard to get a real response from a real person. A lot of the email responses seem automated, or just copied and pasted from a list of canned responses.
If you're comfortable with technology and VPN's/Proxies in general, you'll have no problem. But if you're not, you may become frustrated quickly. That's why BTguard seems to be a popular first choice for BitTorrent users, but is less likely to be a second choice.
Common BTGuard Complaints:
Tech Support is poor/non-existant
VPN Client is outdated
The price is high for the quality of service
WHAT MAKES A GOOD BTGUARD REPLACEMENT?

Not every VPN provider is a good substitute for BTguard, because most can't match the unique (if simple) feature set that BTGuard offers.
When considering alternatives to BTGuard, we only looked at VPN services that met the following criteria (which are also the biggest selling points of BTGuard).
Only VPN's that don't keep any logs (offers high-level privacy)
Must be torrent-friendly (many VPN's don't allow torrents, or say they do then cancel your service)
Must have a proxy service option, or at least a VPN kill switch (greater anonymity protection)
There were about 7-10 VPN services in the conversation, but only 3 VPNs made the cut: NordVPN, Torguard and Private Internet Access.
You can click the links above to see what the VPN's have to say for themselves, or read on as we take a closer look.
NORDVPN
NordVPN burst onto the VPN scene like a hurricane. They've gobbled up huge market share and stolen subscribers from top-notch competitors like Torguard, PIA and yes…BTGuard.
They have the most complete feature offering in the business. Almost no competitor can match their features point-for-point.
Here are the highlights:
Zero Log (based in Panama)
VPN app for all major platforms
Torrents allowed on all servers
Works with Netflix, Hulu, HBOGo and many more streaming services.
Includes HTTPS & SOCKS5 proxy service in 30+ locations
256-bit VPN encryption (with double-hop encryption available).
Dual-mode kill-switch so that your real IP never leaks.
And a 30-day, 100% refund policy
With prices starting as low as $2.75/month
TORGUARD VPN AND PROXY
Key Torguard Features:
No Logs. Period.
Offshore servers.
Based in Panama.
VPN Kill Switch
DNS Leak Protection
Mobile App Included
p2p-optimized servers
Unlimited Bandwidth
VPN + Proxy service
Read: Torguard vs. BTGuard
The VPN that most closely replicates BTGuard's offerings is definitely Torguard. The name alone suggests similarity, but when you look at Torguard's product offerings, they look even more similar.
Torguard's top 2 products are an anonymous VPN service, and (you guessed it) a torrent proxy service with preconfigured Torrent client available for easy installation.
Torguard actually does it a bit better in our opinion, and they surpass BTGuard in a few key areas:
Price: Torguard proxy service is priced $1 cheaper per month than BTguard at $5.95 monthly. They also offer a substantial bundle discount if you buy VPN and proxy service together.
Features: Torguard offers more server locations, better VPN software, and a mobile VPN app. Beyond this, they actually have a unique easy-install solution for their torrent proxy service which will auto-configure all the most popular BitTorrent clients with the proper settings to use Torguard's proxy servers. No manual setup required.
Support: Torguard adds live chat support as well as a ticket-based support system that makes them much more accessible than btguard when it comes to dealing with technical issues.
PRIVATE INTERNET ACCESS VPN + BONUS PROXY SERVICE
Private Internet Access is the VPN that everybody at least considers during their search because it's just so darn affordable. With prices starting at $3.49/month for their best VPN package, it's hard not to look twice.
The amazing part is that we think Private Internet Access actually over-delivers. They offer a number of features that you can't get from most VPN's at any price point, and certainly not for under $4.
That's why PIA
Best PIA Features:
PIA offers a lightweight, easy to use VPN software, Military Grade 256-Bit OpenVPN encryption, No Logging, solid speeds, and servers in 30+ countries.
They also offer protection for your mobile device running iOS or Android, and up to 5 simultaneous VPN connections at no additional charge.
Bonus Proxy Service: Every PIA subscription includes proxy service on a Netherlands proxy server (great for torrents) for no additional charge. Check out our full review of PIA, or see how they compare.
I've been a PIA customer for 7 years. If you're interested, sign up here.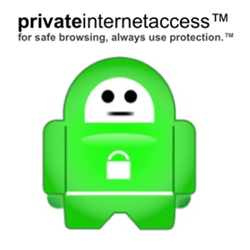 No Logs. Period.
256-bit encryption
Stable VPN app
Windows/Mac/iOS/Android
Includes SOCKS5 proxy
7-day 100% refund policy