IPVanish is a popular US-based VPN provider known for their fast speeds, quality software, and torrent-friendly attitude. In fact, IPVanish has fully embraced file-sharing since they went completely Zero Log several years ago.
In this review: We'll look at IPVanish's best features (and weak points). We'll also discuss whether IPVanish is good for torrenting (Spoiler: Yes!).
Contents
Overview of IPVanish
Website: www.ipvanish.com
IPVanish is a zero-log VPN service based in the USA.
Stats:
No activity or metadata logs
Torrents/p2p allowed
Servers in 70+ countries
Apps for Windows/Mac/iOS/Android/FireTV
256-bit AES encryption
Unlimited Bandwidth
Pricing:
1 month: $10
1 year: $6.49/month
A little bit about IPVanish: The company was founded as a subsidiary of Highwinds Networks (one of the largest owners of internet backbone infrastructure). In 2017, IPVanish was acquired by Stackpath (who owns several other VPN brands and a popular CDN).
IPVanish has evolved tremendously as a company, including adopting a true zero-log privacy policy in 2014. They've also grown their subscriber numbers dramatically over the past 5 years.
But there are two constants that IPVanish is known for:
Fast Speeds
Excellent quality VPN software & security
---
Is IPVanish a good choice for torrents/p2p?
Not all VPNs are safe for BitTorrent activity. In fact, we only recommend around 10 (out of more than 100 alternatives). We require services to meet specific privacy criteria to even be considered.
Required torrent privacy criteria include:
Zero-log privacy (no metadata logs with your IP address)
Torrents explicitly allowed
Dedicated VPN app for Windows, Mac, and Android
256-bit encryption
Above-average download speeds
Bonus Points: includes SOCKS5 proxy service
Fortunately, IPVanish is among the best torrent-friendly VPN services, and meets all of the above criteria. In particular, they stand out from the crowd with their fast speeds, obfuscation/stealth encryption, and included SOCKS proxy (works with all major torrent clients).
Below, we'll take a detailed look at IPVanish's p2p policy, logging policy, download speeds, and security features.
Torrent Policy
IPVanish specifically allows BitTorrent (and all other p2p traffic) on their network. They don't directly block or monitor any types of content (net neutrality).
Here's the relevant section from their help documentation:

In fact, they have even have dedicated setup tutorials for using their included SOCKS5 proxy with uTorrent and Vuze.
Verdict: IPVanish allows torrents and p2p traffic on their network with no restrictions.
Logging Policy & Privacy
You may not realize it, but most torrent activity is monitored by 3rd-parties who spy on public IP addresses in torrent swarms. It's rarely direct traffic inspection by your internet provider.
That's why it's so important to choose a VPN that doesn't keep any logs. That way, there's no link connecting your public IP address (belonging to the VPN) with your real IP (the one assigned by your internet provider).
So what's IPVanish's privacy policy?
IPVanish is a true zero-log service. They keep no traffic logs and no metadata logs whatsoever. There is no record of your VPN activity or IP addresses.
Here's a direct quote from their website: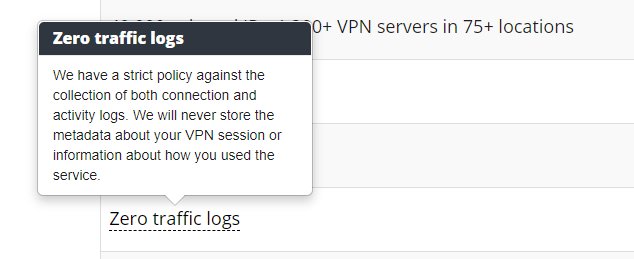 Also, here's a direct quote from their privacy policy (a legally binding document):
IPVanish does not collect or log any traffic of its Services…

-IPVanish Privacy Policy, January 2020
Verdict: IPVanish does not keep logs. Period. Learn more…
Security & Encryption
IPVanish follows industry best-practices for data encryption and authentication. Their servers allow up to 256-bit AES data encryption (considered unbreakable) and SHA256 to authenticate your encrypted data (prevent man-in-the-middle attacks).
Their desktop software also adds additional security features:
Kill Switch: Guard against accidental VPN disconnects and never leak your real IP address or unencrypted data. What is a kill-switch?
Obfuscation/Scramble Protocol: If your network or ISP tries to block VPN traffic, IPVanish's scramble mode can disguise your VPN as regular https traffic to slip through firewalls.
DNS Leak Protection: Stops your Internet Provider from hijacking your DNS lookups and spying on your web-browsing history.
TRY IT: Download IPVanish Software and save 49% on 1-year plans
Verdict: IPVanish uses industry best-practices for encryption and security. Their VPN tunnel is highly secure.
Speedtest Results
Bandwidth and download speeds is one thing that really separates the best VPN providers from the rest. Implementing strong encryption is easy, but delivering consistently fast speeds across a global server network is hard (and expensive).
Server bandwidth costs are the #1 marginal cost for every VPN provider (cost per additional user). So how does IPVanish stack up?
IPVanish's USA speeds
These speedtests were conducted on a 200mbps connection, using IPVanish's Windows 10 client.
BitTorrent Speed Test
One of the most accurate ways to test the speed and consistency of a VPN connection is to download a well-seeded torrent file. We used a popular linux torrent for this test. It was conducted on a nearby USA server as well as a Netherlands server (a location frequently used for p2p)
Important Note: Torrent clients measure speeds in MegaByes per second (MBps), where as the speedtest.net tests (shown above) measure MegaBits per second (Mbps). There are 8 bits per byte, so we multiplied the torrent speed result by 8 to compare to the speedtest.net results.
| | | |
| --- | --- | --- |
| VPN Server | Peak Speed | Avg Speed |
| USA | 66.3 Mbps | 48.5 Mbps |
| Netherlands | 32.9 Mbps | 24.0 Mbps |
Verdict: IPVanish's speeds are consistently good. They don't throttle or restrict torrent downloads in any server location.
How to use IPVanish for Torrenting
IPVanish includes VPN service as well as access to their Netherlands-based SOCKS5 proxy server with every subscription and plan. You can use either (or both) to secure your torrents.
VPN – This is the easiest and most secure option. You'll get 256-bit encrypted torrents, a choice of 50+ server locations, and an easy-to-use app.
Proxy – If you only need lightweight encryption (or none) consider using the proxy. Speeds are fast, it's located in the Netherlands and works with most popular torrent clients.
Deeper Dive: VPN vs. Proxy for torrenting: pros & cons of each
How to use IPVanish VPN for Torrents
This section will cover the recommended VPN settings to download torrents securely with IPVanish.
Choose the correct VPN settings
These are the recommended settings that should give you a high level of security while also providing excellent performance (for IPVanish's PC or Mac/OSX app).
1: Turn on the Kill-Switch
You never want to leak your real IP address in a torrent swarm, so make sure to enable the kill-switch. This will instantly shut down internet access if the VPN connection fails suddenly.
2: Choose the right protocol
IPVanish offers multiple VPN protocols. We recommend you choose whichever one provides the fastest download speeds (usually L2TP or PPTP).
Note: PPTP is considered insecure for mission-critical security, but torrenting is a low-security VPN usage and your ISP cannot decrypt it.
3: Choose the right server location
We recommend you download torrents from safe location for torrents.
Good options include:
Switzerland
Spain
Netherlands
Mexico
Configure your torrent client
You may want to change a few settings inside your preferred torrent client as well. Here are the tweaks we recommend:
Disable uTP (if enabled): uTorrent (and the BitTorrent skin) have an option for uTP (Micro Transport Protocol) which is supposed to balance your torrent speed with your overall internet speed. In reality, it usually causes slower torrents. Turn it off.
Bind to the VPN Interface: Vuze and QBittorrent let your downloads to the VPN interface or IP address (so your connection will stop if the VPN disconnects). This is much like a kill-switch and can be enabled if you're very concerned about leaks. Instructions: Vuze, QBittorrent.
Optimize Encryption Settings: Torrrent clients have optional lightweight encryption built into them (accessed in the settings menu). Make sure you set yours to Enabled (not 'Forced' or 'Disabled'). This will give you the largest number of peers.
How to use IPVanish's SOCKS proxy
Every IPVanish subscription includes access to their Netherlands-based SOCKS proxy cluster. It's an ultra high-speed server that allows you to change your IP address inside your torrent client (no encryption though). You can use this instead of a VPN or use them both together for greater privacy.
Here's how to set it up:
Get your proxy credentials
For security reasons, the proxy doesn't use the same username/password as the VPN. So you'll need to generate unique proxy login credentials in your IPVanish account panel.
log into your IPVanish account at ipvanish.com
click the tab that reads 'SOCKS5 Proxy'
Click the 'Generate' Button to generate username/password
Configure the proxy in your torrent client
SOCKS5 proxy connections are fully supported in the following torrent clients:
uTorrent/BitTorrent
Vuze
Deluge
QBittorrent
Warning: Other clients (such as Tixati) may have proxy settings but they either only apply to tracker connections (not peer connections) or have security leaks that may expose your real IP address.
Shown is the optimal settings for uTorrent/BitTorrent. For other clients, consult our setup guides for: Qbittorrent, Deluge, Vuze.
To access the proxy settings go to: Options > Preferences > Connection
Required Settings:
Type: Socks5
Proxy: ams.socks.ipvanish.com
Port: 1080
Authentication: yes
Username: (Your username)
Password: (Your password)
Use proxy for hostname lookups: yes
Use proxy for peer-to-peer: yes
Proxy Privacy Settings: check all boxes
Optional Settings:
If you're having trouble downloading with the proxy enabled, try the following settings:
Enable uPnP: This will help route your torrent traffic on your local network
Add windows firewall exception: make sure your firewall isn't blocking the proxy
Test the proxy:
You should use a tracking torrent to test whether your proxy is working properly as described in our guide: How to check your torrent IP address.
Pricing & Discounts
If you don't already have an IPVanish account, you can sign up for one.
Unlimited plans start at $10/month with bigger discounts for longer subscriptions. The 1-year plan is currently $6.49/month.
Refund Policy: All plans come with a 7-day 100% satisfaction guarantee.
Coupon Codes
IPVanish doesn't like to give out coupon codes, but their biggest discount currently saves you 35% compared to the monthly plan.
IPVanish Review: Summary
IPVanish is one of the most reputable and well-capitalized VPN providers in the world. Because they're owned by such a large company (stackpath) they can afford to spend more money on faster servers and a skilled technical team.
The result? Better performance and lower prices than their competitors.
Our favorite IPVanish features:
No Logs. Period.
Many server locations
Included SOCKS5 proxy
DNS, IPv6 and Kill-switch leak protection
Custom VPN app for all major operating systems
Things that could be impoved:
Netflix Support: Netflix blocks most VPN services, including IPVanish. A few, like NordVPN and Cyberghost have developed workarounds. In the meantime, you have disconnect IPVanish to access your favorite Netflix content.
Users per IP address: shared IP-addresses offer greater anonymity (you hide in a crowd). But because IPVanish is so popular, they have a lot of users sharing each IP address. This can sometimes trigger Captcha challenges on google and other sites.
Do you recommend IPVanish for Torrents?
Yes. IPVanish is one best VPNs for downloading torrents safely.
IPVanish doesn't keep logs
Speeds are fast
Uses shared IP-addresses (can't identify specific users)
Doesn't monitor torrent traffic
Torrents/p2p is allowed on IPVanish