When it comes to torrents, there are 3 types of VPN companies:
VPNs that don't allow torrents
Companies that 'say' they allow torrents (but will ban, throttle, or report you)
The rare VPNs that truly embrace and allow torrents on their servers
The overwhelming majority of VPNs fall into category #2: These VPNs want your business (torrent users are frequent VPN subscribers) but they don't really want to go out on a limb to protect your right to a free and open internet.
This article will teach you what to look for when choosing a VPN or proxy service, and help you separate the 'Torrent-tolerant' from the truly 'Torrent-Friendly.' ​
Article Topics
This is an in-depth article. Feel free to use the links below to skip ahead to the sections you're most interested in.
VPNs Ranked by Torrenting Policy
Here ya go, we ranked 21 of the world's most popular VPN providers from first to worst based on their overall torrent-friendliness.
Factors considered:
Logging Policy
Duration logs are kept for
Speed
Security/Encryption
Extras (Kill-switch, multi-hop technology, free SOCKS proxies, etc)
Refund Policy
How to use this chart:
The best possible 'TorrentScore' is a 10. Any VPN with a 9 or better is optimal, and VPNs with a 6 or higher will probably be good enough for average users.
Avoid any VPN 4 or lower if you plan to download torrents more than once/month.
TorrentScore 9-10:
These VPNs all keep zero logs, and use shared IP addresses. All but AirVPN also have anonymous SOCKS proxy service as well (some include it free, others sell it separately). Several of these VPNs (Torguard, BTGuard) offer preconfigured torrent clients with the proper SOCKS proxy settings already installed. Learn more about VPN vs. Proxies for torrenting.
TorrentScore 8+
These VPNs all either keep no IP metadata, or do keep metadata logs, but only for 24 hours or less. They are still highly anonymous, though most in the 8-8.5 range do not have any extra torrent features beyond a kill-switch.
TorrentScore 6-7:
Most of these providers do keep metadata logs, but because they use shared IP addresses they are theoretically unable to identify specific accounts based on torrent IP history.
They do allow torrents (some restrict them to specific geographic servers).
Three Levels of p2p tolerance
VPNs fall into 3 categories of torrent-friendliness. Where they land on the spectrum depends on several factors, including: their business model, country of residence (and applicable data retention policy), and their risk tolerance.
While many VPNs in the second category (torrents tolerated) may work for individual users, the point of this article is that they are not the ideal choice for bittorrent users, and you may be better served choosing a VPN from category #1.
The 3 categories of VPNs by torrent policy are:
No Torrents Allowed
Torrents Tolerated (Partially Anonymous)
Torrent-Friendly (Fully Anonymous)
1. Torrents Allowed & NO Logs
VPNs in this group are optimal for torrent users, but they are also rare.
To quality, a VPN must meet the following criteria:
Allow torrents
Have a jurisdiction that doesn't require logs for VPNs
Choose not to keep any metadata or traffic logs
Use shared IP addresses (can't identify single user from IP)
Many of these VPN's have additional p2p features:
Torrent-optimized servers: NordVPN, Torguard, Cyberghost
Kill-Switch: most providers (?)
SOCKS Proxy: IPVanish, NordVPN, Torguard, Private Internet Access
Some of the best Category #1 VPNs are:
The numbers don't always tell the whole story, so we'll give you a more detailed look at how we picked the top 3 most torrent-friendly VPNs by TorrentScore.
#1 – NordVPN (Includes SOCKS5 Proxy w/ VPN)
NordVPN is a premium non-logging VPN service with a unbeatable list of features.
They're the only VPN we've found with Torrent & Netflix/Hulu support at a price under $6 per month. In fact, you can currently get NordVPN for $2.75/month if you take advantage of their 3-year special offer.
NordVPN's top features:
Zero Logs. No connection or activity monitoring.
Torrents allowed on all servers (but certain servers are p2p-optimized)
Automatically unblock Netflix, Hulu, HBOGo and 50 other streaming services
Mobile app for iOS/Android
Full NordVPN Review (and torrent setup guide)
---
#2 – IPVanish (VPN + Socks5 Proxy)
IPVanish was our top-ranked torrent VPN in 2018 (though it got edged by NordVPN this year). Their torrent-friendly service hits all the right notes, and really deliver in one key area – speed. If you wanted the fastest zero-log VPN in the world, choose IPVanish. We've tested hit speedtest results in the 100mbps+ range using nearby servers.
IPVanish has a true zero-log privacy policy, and thanks to their addition of an included SOCKS5 Proxy and FireStick support, they scored a perfect 10 on their TorrentScore.
Top Features:
No logs kept
Incredibly fast speeds
Apps for Windows, Mac, iOS, Android, FireStick/FireTV (Kodi anyone?)
Socks proxy included, Netherlands server location.
Pricing & Info:
Standard Price: $10/month
Best Offer: $6.49/month
Full Review: IPVanish Review
---
#3 – Private Internet Access (VPN + Socks5 Proxy)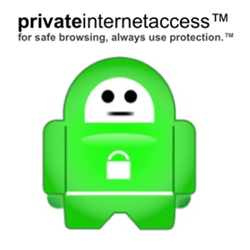 Private Internet Access is legendary among veteran torrenters, because of their dedication their users' privacy, and their incredibly low price.
Better yet, Private Internet Access proved their zero-log privacy policy in court.
They earned our highest TorrentScore (10) because:
PIA is one of the original zero-log VPNs
They have proven extremely torrent-friendly for years
Speeds are solid (much better than similarly priced VPNs)
Includes a SOCKS5 Proxy (Setup guides for: QBittorrent, Deluge, and uTorrent)
PIA is cheaper than comparable VPNs.
Compare: PIA vs. Torguard – BTGuard – IPVanish
2. Torrents allowed, but metadata logs kept
The bulk of VPN companies fall into this category. They want the extra business from torrent/p2p users, but the can't (or won't) provide all the critical privacy features torrent users want/need. This is not to say that you should never choose a VPN from this category if they have other features that are important to you. Just be aware that your connection history will never be truly anonymous if the VPN keeps any connection logs.
Important Note: Many VPNs in this category love to advertise their service as 'non-logging' or 'no activity logs kept' but these are deceptive terms. In reality, most of the VPNs in this category still keep metadata logs known as connection logs which in many cases can still be used to identify individual users.
This is the critical distinction between a group #2 VPN and a true non-logging vpn. A real non-logging vpn keeps no session or connection metadata whatsoever, and cannot identify a user based on their historical IP addresses even if they wanted to.
Some VPNs are more transparent than others when disclosing the true nature of their logging. For example, IBVPN is extremely upfront about what types of logs they do/don't keep (and how long they keep them for):
Not every VPN provider is this open, many choose to hide behind the distinction between 'Activity logs' (which almost no VPNs keep) and 'Connection Logs' which all category 2 VPN's keep.
Red flags that you're dealing with a category #2 VPN:
They advertise 'No Logs of VPN Activity' or 'No Traffic Logs' or a similar statement without greater detail.
Their privacy policy doesn't specifically state that they never log your connection history or IP address.
Popular VPNs that allow torrents but DO keep connection logs
Anonymizer
Boxpn
Buffered
CactusVPN
EarthVPN
ExpressVPN
Hidemyass
Invisible Browsing VPN (ibVPN
iPredator
IronSocket
Overplay
PureVPN
SwitchVPN
VPN.AC
VyprVPN*
*As of 2019, VyprVPN is an independently audited zero-log VPN service. They are now suitable for torrent use.
---
So can VPN logs actually identify your account based on a recorded IP address?
This is an important question, and the honest answer is it depends. It depends mostly on what type of metadata the VPN stores, for how long, and whether they use shared or private IP addresses.
Lets say an IP address belonging to your VPN was reported to have been doing something it shouldn't. Whether that activity can be traced to a specific account will depend on the amount and duration of logs the VPN keeps. Here are a couple scenarios…
Scenario #1: Private IP addresses
If the VPN assigns unique IP addresses to everyone connected to their servers, it's trivially easy to match the reported IP to the account that used it. All you need is a connection log consisting of: IP addresses accounts are assigned, and a Timestamp of when each session began and ended.
Result: Offending account is easily identified.
Scenario #2: Shared IP (VPN logs include – IP, timestamp, data transfer)
A VPN that utilizes shared IP addresses is generally more anonymous than one that doesn't. Shared IP's means multiple (sometimes 10's or 100's) of users will be sharing the same IP address at once. The upside is greater privacy, the downside is shared IP's suffer from bad neighbor effect (websites may block or 'Captcha' you based on the actions of other users sharing the IP).
In this scenario, it is harder to identify a specific user, but by combining multiple pieces of metadata it may still be possible (especially if the users' session lasts a long time). For example, if the IP address in question was reported to have downloaded a 4GB file, and only one account matching that IP address had transferred more than 1GB of data, it would be obvious which account was to blame. This assumes of course that the offender downloaded the entire 4GB file and not just part of it (which isn't always a valid assumption).
Scenario #3: Shared IP (VPN Logs don't include IP address)
This is a rare scenario, but some VPNs (Like ExpressVPN) keep limited metadata logs, but the one thing they don't record is your IP address you're assigned by the VPN.
​ In this scenario, it should be theoretically impossible to match the reported IP address to a specific account, making ExpressVPN (and similar providers) reasonably anonymous.
Should you ever choose a category #2 VPN for Torrenting?
Possibly. Look, odds are that there won't be an issue. But why risk it? True zero-log VPNs are the same price (or cheaper) than comparable Category #2 VPNs. So why not choose one that offers real privacy?
If you really like the features/price of a category #2 VPN and they do allow torrents, it's ok to try their service for a month or two and see if you like it. I'd recommend only choosing VPNs with a torrent-friendliness rating of 7 or higher though (ranking chart later in this article)
3. VPNs that ban or block torrents
This is the second largest group of VPNs. These providers either outright block torrent ports on their network, or will actively cancel user accounts if torrent activity is detected. Nearly all free vpn providers fall into this category. There are also several notable paid VPN services that do not allow torrents/p2p.
Among them:
Astrill
LibertyVPN
Kepard
TunnelBear
UnoTelly
Why would a VPN Block Torrents?
VPNs will block/dissallow torrent activity for a variety of reasons. First, free VPNs will virtually always block torrents to prevent abuse/legal headaches from irresponsible downloaders. Paid VPNs may ban torrents for a variety of reasons including:
​Reason #1 – Bandwidth Costs: Bittorrent users take up and outrageous amount of bandwidth (especially downstream) compared to casual web browsers. Only someone on a hard-core netflix streaming binge will use more data capacity per hour than an active torrent session.
Reason #2 – Logistical/Legal Headaches: Not everybody uses bittorrent responsibly. Allowing unrestricted torrent downloads on a VPN network can bring legal pressure, both on the VPN, and the company that hosts their VPN servers. It can also cause servers to go down, or server hosts to cut the VPN company off completely. Many VPNs would prefer to have fewer customers but avoid that level of hassle.
The Bottom Line
VPNs in this category are off-limits if you intend to download torrents. They will either block (or cripple the speed of) all torrents. They will also often ban VPN accounts that choose to torrent anyway (sometimes without a warning). ​Avoid.
VPNs you should NEVER use for torrenting
Many mainstream VPN services frown on, or flat-out block torrents on their network. Most of these keep logs, which they will usually hand over if requested (bad for privacy). Here are the most popular VPNs that you shouldn't use if you download torrents frequently.
Avast Secureline VPN
Avast (and every other major antivirus company) now offers their own VPN service. Technically they do 'allow' p2p usage, but their logging policy leaves a lot to be desired. Avast antivirus is already scanning all the files on your computer, do you want them reading your internet traffic too?
BitDefender
Bitdefender VPN is a VPN service offered by Bitdefender, which is a Romanian security company known for their Antivirus software. BitdefenderVPN is powered by Hotspot Shield, which is another VPN provider we don't recommend for torrenting.
Furthermore, we generally dislike VPN companies owned by or partnered with Antivirus firms, as they tend offer less privacy and are more likely to actively datamine your connection and browsing.
Hola VPN
Hola shouldn't be used for torrenting (or any other purpose for that matter). After it was discovered that Hola was selling their customers' bandwidth to be used in Botnet attacks, their popularity tanked. But some people are in love with the idea of 'Free.' Don't use Hola. Seriously. If price is an issue, choose one of these cheap options.
TunnelBear VPN
Tunnel Bear is a well-known VPN provider (thanks to their free plan), but they aren't torrent friendly. We couldn't find any specific info on their site mention torrents at all, which is usually an indicator that they don't support the protocol.
An older version of TunnelBear's site specifically stated that torrents were not allowed. You can still view the page using the wayback machine.
Also, this Frostwire thread notes that Tunnelbear specifically blocks torrent downloads.
StrongVPN
StrongVPN is a fast, reliable VPN service and an excellent choice for video streaming (they are still Netflix-compatible). That said, their TOS states that p2p/torrents are banned, so they're best avoided if that's your intended use.
2017 Update: StrongVPN has dramatically changed their service, privacy, and torrent policies. It appears that StrongVPN is now a non-logging VPN provider, and they do allow unrestricted p2p/torrenting.
ZenMate
ZenMate is one of the most popular unblocking services in the world, thanks to their free browser VPN extension, and 'demo' plan which gives you free (albeit slow) VPN service. Zenmate also offers premium (paid) VPN service with excellent speeds, but they expressly forbid p2p/torrents in their Terms of Service.
HotSpot Shield
Hotspot Shield initially started as a free encrypted proxy browser extension. They've now moved to offer a full-featured VPN service, but they don't allow torrents. If you do try to download torrents with hotspot shield, they'll either be blocked or your account may be permanently banned (without a refund).
Opera VPN
Opera browser added a free 'VPN' to their popular web browser in 2017.
But it's not really a VPN, because it doesn't actually encrypt traffic outside the web browser. So while it may prevent your ISP from seeing that you're visiting the PirateBay, it WON'T stop them from seeing what torrent files you're actually downloading. And, OperaVPN won't hide your torrent IP address, so peers will all see your real IP address (not secure at all).
Proxy.sh
Proxy.sh used to be a semi-reliable VPN service with a pro-p2p stance and transparency report. But in 2020 they closed up shop and shut down the website. Any VPN connections (if they work at all) can no longer be trusted.
Turbo VPN
TurboVPN is a China-based VPN company that offers 'Free' mobile VPN service. They claim not to log, but China isn't known for privacy protection and every free VPN service has to generate revenue somehow, often through datamining or ad injection. Also, their website is very unprofessionally designed, which is just another red flag that should make you think twice about trusting your privacy to them. As far as we can tell, TurboVPN doesn't specifically block or disallow Torrents.
Any 'Free' VPN services
We already covered the 'Free VPN for torrents' myth. To our knowledge, they're isn't a single free VPN provider that actuall allows torrenting on their network. Most will block or redirect torrent traffic, and you're likely to get your account banned. This includes services like: Cyberghost (free version) and Tunnelbear.
Some people have managed to download torrents on a few SoftEther servers, but please don't do it. Their terms and conditions expressly forbid P2P traffic, and their speeds are quite slow anyway.
The other main issue with 'Free' VPN services is that they almost universally keep logs (of your connection history and possible online activity as well). These logs will often be turned over with minimal resistance if someone requests them based on your torrent IP address.
​ Be smart, use a real Torrent VPN like Private Internet Access (only $3.49/month!)
Additional resources & guides
We've got tons of info on this site to help you pick the perfect torrent-friendly VPN, get the best possible speeds, and how to configure your torrent software for optimal security. Enjoy!
And P.S. if you've got a blog, website, or twitter account, we'd love it if you shared a link to your favorite guide/article on this site, or share it with your friends using the social bar to the left. Thanks!
Guides: