Is Cyberghost a good choice for downloading torrents anonymously? We put Cyberghost through it's paces, and examine the best (and worst) things about the service, to decide whether it's a good option for torrents/p2p/filesharing looking keep their download history private.
A quick look at Cyberghost
Cyberghost is a Romania-based VPN company. Their popularity continues to grow, thanks to their affordable pricing, 30-day refund policy, and compatibility with Netflix/Hulu.
Note: Cyberghost used to offer a free plan tier with limited server locations and slower speeds. Now all plans are 'paid' and come with a 30-day 100% refund period instead.
Unlimited plans start as low as $2.75/month.
Cyberghost VPN's Features
All Cyberghost subscriptions include their custom VPN software, which has tons of extra features built-in. Not only is this additional functionality easy-to-use, but several features also provide enhanced security for your VPN session.
Other features (like ad-blocking) may make your web-browsing experience better, but some users might not like their VPN provider taking such an active role in 'improving' their online activity.
We'll look at Cyberghost's standout features in-depth the sections below. Here's a quick list:
IP/DNS Leak Protection
Malware/Ad-Blocking
NAT Firewall
256-bit AES Encrypted VPN Tunnel
Enhanced web security by forcing Https where available
Shared IP Addresses (hide among multiple users on same IP)
No Activity Logs
Cyberghost VPN: Security
Cyberghost has all the security features you'll want for secure torrenting.
While most VPN providers offer some of these features, Cyberghost has all 6, including an NAT-Firewall which some VPNs actually charge extra for.
Key Features:
256-bit OpenVPN AES Encryption:
This is the industry standard for high-security encryption. It will wrap all incoming/outgoing data in an encryption layer that is considered secure enough even for military and government use.
If you don't need that level of security, you can also choose from PPTP or L2TP/IPSec VPN protocols, which might yield slightly faster download speeds.
IP Leak Protection:
Your operating system or web browser can cause a VPN to leak your true IP address under certain circumstances or configurations. Cyberghost's software has built-in protection that addresses the most common leak types, including:
A VPN Kill-Switch (protects against accidental disconnects)
DNS Leak Protection (route your website queries through a private server instead of your ISP's servers)
IPv6 Protection (ensure the VPN doesn't leak your device's IPv6 address (as opposed to IPv4).
Learn more about IP leaks and test your own VPN for leaks at IPLeak.net
NAT Firewall:
​An NAT firewall is a packet-filter that makes sure malicious data or hack attempts can't reach your computer through the VPN tunnel. It ensures that every byte of data sent to you is one your computer directly requested from a website or application.
Logging Policy and Privacy Settings
Cyberghost is a non-logging VPN service. It is stated clearly on their website, in their privacy policy, and has been confirmed to me in writing (email) by members of the Cyberghost team. We haven't seen any reports or court cases involving Cyberghost's privacy guarantee that would be worrying (unlike other VPNs recently).
One thing to keep in mind… Cyberghost has existed for nearly a decade, and we previously reviewed a much older (and somewhat murky) version of their privacy policy. Their current policy is substantially clearer and more straightforward. We've kept the old version of our review so you can see how much progress Cyberghost has made.
Cyberghost's Logging Policy (from the Privacy Policy)
Cyberghost's privacy policy is divided into 2 main sections. The first deals with privacy related to visitors to their website. It's important not to confuse the tracking technologies on cyberghost.com (that nearly every serious VPN provider uses) with anything that relates to tracking your VPN activity. Cyberghost is a 'Non-Logging VPN Service' and they do not track any information about your VPN activity, usage, or connection history.
Through our strict no-logs-policy, we ensure that we do NOT track user traffic performed inside the CyberGhost VPN tunnel such as: browsing history, traffic destination, search preferences, data content, IP addresses or DNS queries.

​–Cyberghost's Privacy Policy
Cyberghost goes on to specify what this policy means in practice:
So summarizing the policy, Cyberghost…
Doesn't know what websites or services you're using
Don't log what IP address or server location you used
Don't log what IP you connected from
A bit of clarification: This means they can't reconstruct this information from logs (as they don't exist). But it doesn't mean that Cyberghost (or any other VPN) couldn't access this information in real-time. Any VPN provider will be able to know what accounts are currently connected and what IP's are in use (if they so choose). Cyberghost is promising not to store or log this information after you disconnect.
Are there any Red flags / Reasons for doubt?
There are no major gaps in the privacy policy, and the guarantee covers all the most important features we won't to see in a 'non-logging' provider's privacy policy. They don't log any online activity, search history, or VPN usage. They don't record your incoming/outgoing IP address.
In other words, torrent activity should (in practical terms) be impossible for a 3rd-party to track based on your IP address when connected to Cyberghost.
Furthermore, we haven't seen or read any reports that would suggest Cyberghost is sharing or logging user data. While there have been several(1) different(2) VPN logging scandals lately, Cyberghost's reputation is clean.
Analysis of Cyberghost's previous privacy policy (for transparency)
Important Note: The analysis shown below is OLD and based on a previous version of Cyberghost's privacy policy. Their new privacy policy is greatly improved in terms of clarity, organization, and transparency. Our analysis of the current privacy policy can be found in the section above.
We've kept our old commentary for the purposes of transparency, as well as to show you how Cyberghost has grown as a company.
Is Cyberghost a good VPN for torrents downloads?
Based on our analysis, Cyberghost is an above-average VPN provider for downloading torrents.
They are a zero-log provider and do allow bittorrent (and other p2p) network traffic. We do, however, wish they included a SOCKS5 proxy with your subscription. It's a useful tool to add a 2nd IP-hop for your torrent traffic. Torrent clients like uTorrent, Vuze, or QBittorrent all have proxy support.
Here's our full analysis:
Cyberghost Pros
Cyberghost has excellent IP-leak protection, through built-in features like IPv6 leak protection and their kill-switchtechnology.
Cyberghost's desktop client has a built in 'Anonymous Torrenting mode' which will automatically connect you to a p2p-optimized server location. I will optionally also launch your favorite torrent client (or other app) automatically.
They also fully allow torrenting on all premium plans (but not free plans). Couple this with their 256-bit encryption and a wide variety of server locations (including torrent-friendly countries) and Cyberghost is a solid choice.
Their logging policy and transparency has greatly improved in 2018, and it has all the ingredients you want for really private torrents.
Cyberghost Cons (No Proxy Included)
The main con we can find is a minor one. Cyberghost VPN doesn't come with an included SOCKS5 proxy service. This is a tool that is only used by a small percentage of the p2p community (most just use a VPN). Nevertheless, it's a nice feature to have, and several of Cyberghost's top competitors include SOCKS proxy service at no additional charge.
Verdict: Good for torrenting?
Yes, Cyberghost is an excellent choice for downloading torrents securely. You'll especially appreciate their fast download speeds and Netflix-compatibility.
Here are the reasons Cyberghost ranks among the best p2p-friendly VPNs:
True Zero-log policy
Very fast server speeds
No restrictions on p2p/bittorrent activity
Easy-to-use software
Integrated kill-switch
The best Cyberghost alternatives
If your primary reason for using a VPN is to download torrents anonymously, the following VPN providers are great choices. Each has a 'No-Logs' policy is ranked highly on our Torrent-Friendliness scorecard.
Best of all, both of these options cost less than Cyberghost's premium plan.
1. NordVPN
Best Offer: $3.99/month | Jurisdition: Panama | Logs: none
NordVPN is the closest alternative to Cyberghost in terms of their feature list (especially Netflix-compatibility). They're also hugely popular within the torrent community.
Our favorite NordVPN features are:
p2p-optimized servers (for speed and security)
SOCKS5 proxy servers included in 10 torrent-friendly locations.
VPN Apps for Windows, Mac, iOS, Android
Can be installed on VPN-compatible routers (protect your whole network)
Unblocks US-Netflix and 50+ other streaming services (like HBO GO)
Also read: Our NordVPN review (and torrent setup guide)
Also check out our in-depth comparisons including: NordVPN vs. PIA and NordVPN vs. IPVanish
2. Private Internet Access
Best Offer: $3.49/month | Jurisdiction: USA | Logs: none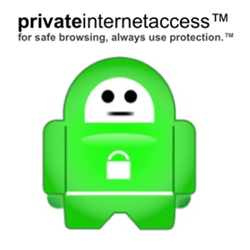 Private Internet Access is one of our most highly recommended VPN providers (and the #1 most subscribed-to by our readers).
Our favorite feature (besides their 'Zero Logs' policy) is that every VPN package includes unlimited access to a Netherlands SOCKS5 Proxy server (which can be used to further anonymize your torrents).
We have proxy setup guides for uTorrent, Vuze, Deluge, Qbittorrent, and Flud.
Also, check out our dedicated guide on how to set up PIA for maximum torrent privacy.
Summary & additional resources
Cyberghost is a solid choice if you're looking for a high-quality, fast VPN that allows torrents on their network.
The only negatives to consider are:
Lacks included SOCKS5 proxy service (most users don't need this anyway)
Somewhat expensive pricing
But if you care about unblocking geo-restricted streaming sites like Netflix, Hulu and HBOgo? Then Cyberghost is a great choice (and has faster speeds than alternatives like NordVPN.
Try Cyberghost for 30-days: Take advantage of their 100% refund policy and try Cyberghost risk-free for a month!
Latest Update: This guide was last updated September 23, 2019 to reflect changes in NordVPN's pricing and features.