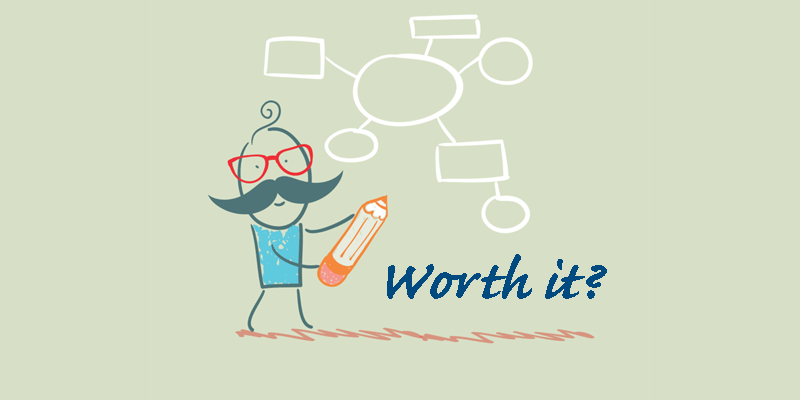 There are actually a few free VPNs that allow torrenting on their network. But I'm going to be brutally honest up front.
There are some big tradeoffs when you choose a free provider vs a quality paid service. Because when you use a free product, you typically get what you pay for, and sometimes less.
That's why many of our readers choose NordVPN, which offers impressive privacy, fast speeds, and torrent-friendly service at a lower price than their competitors. In fact, NordVPN topped our list of the best cheap VPN services. It even includes a torrent-capable SOCKS proxy service.
But I get it. You want a Free VPN for torrents and p2p privacy. Read on, brave soul.
When 'Free' VPNs aren't really free
There's no such thing as a 'Free VPN'. Not truly.
Servers cost money. Bandwidthcosts money. Network security experts, advertising, websites, tech support staff and legal fees cost money.
Any VPN provider that gives you free VPN service is paying actual $$$ to provide you with the service, so they must be getting something valuable out of the deal.
Because of this fact, it's crucial that you know who's on the other side of this transaction (Who's providing my VPN service?) and what is their benefit in this trade.
After all, you're using a VPN for security purposes, and you're placing alot of trust in that VPN provider. Since they have complete access to 100% of your data stream through their network, you need to be able to trust them completely.
Reasons a VPN might offer free VPN Service
We list a number of reasons someone might offer you free VPN service. While some are more likely than others, none are completely outrageous. Even the scarier ones can (and probably have) happened.
They may offer you Free VPN Service Because…
They hope you'll eventually upgrade to a paid plan (most likely option)
They force you to watch advertising to cover the VPN costs (also common)
They monitor your internet usage and sell the data to advertisers
They're a government agency that wants access to more encrypted data
They're a group of hackers, looking to steal your data, passwords & identity
Specific examples of Free VPNs being dangerous or insecure
You don't just have to take my word for it. In the past 3 years, there have been multiple scandals involving 'free' VPN providers. Here are some of the highlights:
HolaVPN: HolaVPN (which is basically an encrypted browser extension masquerading as a VPN) was reported to be selling user's connections for use in botnet attacks. Yes, really.
Insecure Android VPNs: Researchers did an in-depth analysis of the traffic on many 'Free' VPN apps listed in the google play store. They found that a the majority of them had security flaws (some even contained malware). And a significant number didn't even encrypt your traffic (the entire point of a VPN).
Limitations & risks of Free VPNs
Even if you can find a reputable VPN provider that offers free VPN service (and allows torrents) you're almost certainly going to face some limitations regarding your VPN usage.
The most common limitations of Free VPN's:
Speed – Many free VPN's cap your speed at 1-3mbps
Bandwidth usage – You may be limited to a few GB of data/month
Logs – Most free VPN's keep logs that can be used to identify individual users based on their activity. It's also quite common to pass that info on to 3rd-parties who request it, or to allow the forwarding of DMCA notices.
Servers – you will often be limited 1 or a few server locations. These servers will usually be very crowded (and slow).
No Torrents – Most VPN's that allow torrents on their paid plans will block still them on their free plans.
The Best VPNs that allow torrenting on their Free plans
So you're still waiting to see what's behind door #2? I can't blame you. 'Free' is a powerful word.
These are the best available zero-log providers we've found who still offer free plans:

#1 Hide.me VPN (best Free VPN)
Hide.me VPN offers both Free and Premimum VPN plans. The premium plan includes unlimited bandwidth and includes both VPN service and a SOCKS5 proxy.
Regarding privacy, Hide.me promises that they keep no logs for either the free or premium plans. Users remain anonymous. They were also one of the first independently audited consumer VPNs, making them more trustworthy.
Hide.me gives all users (including free plans) their easy-to-use VPN software that makes it quick and easy to connect to the VPN server of your choice.
Hide.me software features:
Kill-Switch
Multiple Protocols: WireGuard®, OpenVPN, IKEv2, SoftEther, SSTP
256-bit encryption (extremely strong)
Split-Tunneling (route specific apps inside the VPN)
Torrents allowed on most servers
10 devices per plan (pro)
The free VPN plan comes with the following limitations:
10GB of data transfer per month (excellent for a free plan)
5 server locations (premium has 70+ locations and over 1600 servers)
Limited speeds (premium is unlimited speed)
You can also try the Premium Plan risk-free
Hide.me has a 30-day, 100% refund guarantee. If you want to try the difference between the free and pro tiers, you can sign up and then cancel within a month for full refund if desired.
---
#2 Windscribe VPN (runner up, still good)
Windscribe VPN is a Canadian VPN provider that has made a dent in the low-end VPN market. They claim not to keep any logs of activity, and their software is quite good. Windscribe is also one of the last remaining VPNs that works reliably with Netflix without generating the dreaded 'proxy error'. (Hint: NordVPN is another that works flawlessly with Netflix).
Unfortunately, speeds are mediocre even on the paid tiers, probably because they've opted to sell a large number of 'lifetime VPN plans' which end up eating a ton of bandwidth over time without generating any extra revenue.
But the good news is: You can try out their service 100% free, no credit card required. Yipee!
Netflix Compatible: Also, it's worth mentioning that Windscribe has a built-in SmartDNS feature called WindFlix, which is specifically designed to easily access Netflix from anywhere in the world. It works great!
Free Plan Details:
Limited to 10 server locations (still pretty good)
'Best-effort' bandwidth (so…slowish).
Torrents are not specifically forbidden or blocked
Up to 10GB of bandwidth/month with a valid email address, 2GB without.
---
Cyberghost VPN (torrents now blocked on free plan)
CyberGhost VPN is a NON-LOGGING VPN provider that offers both free and paid VPN plans.
Their Free VPN option is very popular because you still get unlimited monthly data transfer (most free plans are limited) As a result, Cyberghost is an excellent free choice for private, secure torrents.
2018 UPDATE: Torrent ports are now blocked on Cyberghost Free (torrents are allowed on the paid plans)
The free plan has a few limitations:
Slower speeds (Paid plan is up to 5x faster)
No mobile VPN app
1 connected device at a time (Paid plans offer up to 5)
Ad supported (you must watch occasional ads)
April 2019 Update: Cyberghost has discontinued their free tier, but introduced a 3-year $2.75/month deal for their paid service. You can also claim a 100% refund within 30 days.
Other FREE methods for torrent privacy
There are a couple free methods besides a VPN that you can use to hide your torrent IP address. The first (i2p) is recommended while the second option (Tor) is not.
i2P
This protocol is alot like the Tor onion Network, except they welcome torrent traffic (encourage it actually) and don't block magnet links. Even better, it's built right into the Vuze torrent client, so you can enable it with a single click.
Now for the bad news: speeds of 30-50kbps (yes, that's 0.3mbps) are typical. It's slow. (It's totally Free tho 😉
Installation: The Vuze Wiki shows exactly how to install the i2p helper plugin from inside vuze, then you can simply enable the i2p network in vuze from: Menu > Options > Connection > Networks
More Info: There's a great article about i2P (and how to use it for torrenting) at The Tin Hat.
Tor onion network
The Tor network is just a series of encrypted SOCKS proxies layered on top of each other, so in theory it would work for obscuring your torrent activity. But there are two caveats:
There's no Tor support built into Vuze, uTorrent or any major torrent client
The Tor network is run by volunteers for the purpose of circumventing government censorship and spying. Not so you can avoid a $4/month VPN subscription fee.
Bottom Line: We don't recommend using Tor (use i2P instead). However we do have a guide on using Tor for torrents if you're interested.
Free Proxies
A proxy is like a VPN without the encryption (so not very secure). There are many 'free proxy lists' on the web, and it sounds great in principle, but the reality isn't great.
Basically, it's an outdated list of overcrowded or non-functional web proxies run by completely random people (sometimes as honeypots) around the web. And worse-yet, most are HTTP proxies which can't carry BitTorrent data packets, meaning your IP address will still be public, even though you might think you're protected.
Trust me, don't use free proxies for torrents.
5 Reasons to use a Paid VPN for downloading torrents
Reason #1: Unlimited Everything
As you probably noticed, every free VPN limits something, and usually it comes with alot of limitations. Most VPN's don't even allow torrents to begin with, and only a very small minority of free VPN's allow torrenting.
With the right premium VPN service you'll get:
Unlimited monthly data transfer
Unlimited speeds (get the most out of your fast broadband connection)
No limitations on ports, protocols, or VPN software
No torrent blocking or throttling
Reason #2: Trust & Accountability
When you pay someone for a product or service, they have a legal obligation to honor their guarantees (privacy, logging policy, security, etc..). You're contract with a free VPN provider, however, is almost completely one-sided, and the free VPN provider usually has little or no accountability to their users.
A premium VPN service (Such as NordVPN or Private Internet Access) has built its entire reputation on protecting the privacy of their users. If they violate they trust just once it could cost them millions of dollars in lost subscriber fees.
A free VPN has no financial incentive to protect their users privacy, so if facing any sort of legal pressure, they will often either cancel your free account and/or violate your privacy and cough up your IP address to whoever's asking.
(If the VPN is truly a non-logging free vpn service, they aren't able to identify your true IP address retroactively, but be aware that there are many VPN's that claim to be 'non-logging' when in fact they do keep connection logs sufficient to identify individual users. This article on VPN logs can explain it even better.
Reason #3: A High quality VPNs subscription is pretty darn cheap
Most VPN providers offer month-to-month service at prices starting under $10/month. Some excellent non-logging VPN's like PIA and NordVPN, offer VPN service for under $4/month when purchasing a 1-year (or longer) subscription.
Consider these average costs:
TV + Internet Bill – $100/month
Mobile Phone Service – $50+/month (mine is over $100)
Netflix subscription – $12/month
Starbucks Latte – $5
Private Internet Access VPN – $3.49/month
NordVPN 3-year deal – $2.99/month
That's right, you can buy security, anonymity, and peace of mind for less than the price of a CUP OF COFFEE!
Does it sound like I'm trying to sell you on NordVPN? I am. I really am. Why? Because I believe in their service.
As a professional VPN reviewer, I get VPN accounts for free whenever I want them, but I actually pay for my annual Nord subscription, and I use it almost daily. It's fast, it's secure, it's anonymous, and it Just. Plain. Works.
Convinced? Take advantage of the NordVPN's $2.75/month offer while it still lasts.
Want more options or information? Check out the articles below. And don't miss our full NordVPN review (and complete torrent setup guide).
In Summary:
There are a few free VPNs that will let you download torrents without banning your account. We had the best results with Windscribe and would recommend them #1.
Hide.me is also a solid choice, and their recent upgrade to 10GB of monthly data for free users is very generous.
Just be aware of the trade-offs you make when you choose 'free' services, especially when it comes to privacy and performance. And when you're ready, man-up and upgrade to a real torrent VPN.
If you know of any other free, torrent-friendly VPNs that should be featured in this article, please notify us in the comments below!